Aducanumab Still Needs to Prove Itself, Researchers Say
Will Biogen's aducanumab become the first drug approved to slow progression of Alzheimer's disease? Biogen's licensing application for the biologic ran into headwinds at a U.S. Food and Drug Administration advisory committee meeting held November 6. It was led by the agency's Billy Dunn, who directs development of new neurology treatments (Nov 2020 news). The agency's internal biostatistical and neurologic reviews presented starkly opposing views of the efficacy data—the former critical, the latter glowing. This disconnect consternated both the committee and the many scientists listening to the public proceedings from around the country.
The FDA advisory committee cautions that positive data from EMERGE could be a mirage.
Experts say negative data from ENGAGE cannot be disregarded.
The committee, and peers throughout, deems the evidence premature for approval, recommends confirmatory trial.
Unlike the FDA's neurology review, the biostatistical review got no presentation slot during the day-long meeting. Even so, the independent experts who sat on the committee had read that review in the background materials uploaded to the FDA website, and they found it convincing. The experts agreed the aducanumab efficacy data were weak. They pointed to inconsistencies in the data, which came from two futility-stopped Phase 3 trials and one Phase 1b trial. They complained that the sponsor and FDA presenters "talked down the clock" and did not adequately answer their questions. They unanimously voted against approval. The decision now rests with the FDA.
What do Alzheimer's researchers think? They still have many questions about aducanumab. Most believe that the antibody slows progression of the underlying amyloid pathology. But they doubt whether there is a meaningful clinical benefit, what aducanumab's effects are on markers of pathology downstream of Aβ, and what is the best patient population to target. To settle those issues, they want one more trial. Some spoke on the record, but many others requested their names not be used for this story.
"The current aducanumab trials fail to prove efficacy," Todd Golde at the University of Florida, Gainesville, told Alzforum, expressing the majority view. "There may be a very modest beneficial effect in the early clinical stage of AD, but given safety, cost and possible access issues, this is far from the home run we had all hoped for," Golde said (full comment below). Likewise, David Holtzman, Washington University, St. Louis said he found Biogen's post hoc analyses explaining away discrepant results to be speculative and uncertain. "I believe further assessments of aducanumab are needed," Holtzman wrote (see more below).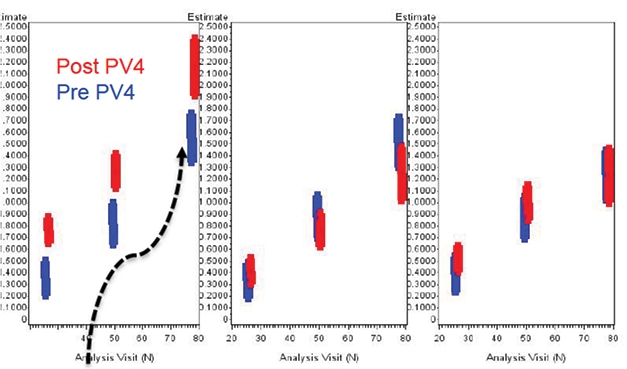 Placebo Decline. Did a random worsening in the placebo group (left) of the EMERGE trial after amendment 4 took effect create the illusion of a treatment effect? In low-dose (middle) and high-dose (right) groups, scores on the primary outcome measure did not budge from before the amendment (blue bars) to after (red). [From FDA website.]
Biogen's licensing application touted positive findings from the aborted EMERGE trial, in which sustained dosing at 10 mg/kg slowed cognitive decline on the primary outcome measure, the CDR-SB, by 23 percent at 78 weeks. Decline on secondary cognitive and functional measures slowed by about a quarter as well. Biogen supported this finding with a dramatic drop in amyloid plaque as seen by PET, and with hints of a decline in tangles in tiny subsets of participants who underwent tau PET or lumbar puncture. However, the identical ENGAGE trial was negative. Biogen attributed this to a lower total exposure to the effective dose, 10 mg/kg. Maximum dosing for APOE4 carriers was raised midway through the trial, and in post hoc analysis, a subset of ENGAGE participants who received the most aducanumab responded similarly to EMERGE participants (Oct 2019 news; Dec 2019 conference news).
Caveats Raised for Positive Findings
The FDA's advisory committee meeting cast doubt on this analysis. In their comments and questions, panelists repeatedly referred to the review from the FDA biostatistician, Tristan Massie (narrated slide presentation 3, available via FDA website). According to Massie, the data from EMERGE does not hold up to scrutiny. The positive signal in this trial could have arisen partly from an accelerated decline in the placebo group, and partly from inadvertent unblinding due to side effects from ARIA in participants on drug.
Both issues arise from how APOE4 carriers were treated. Carriers made up about two-thirds of participants. Because carriers are more prone to ARIA, the initial protocol called for them to titrate to a maximum of 6 mg/kg aducanumab, but this was revised in protocol amendment 4 to allow carriers to reach 10 mg/kg. Biogen researchers maintain that this increase in exposure generated the efficacy signal seen in the 10 mg/kg EMERGE group at 78 weeks.
In contrast, Massie's analysis found little change in the overall rate of decline on the CDR-SB in the high-dose group after amendment 4 took effect. Rather, he found, the EMERGE placebo group declined more steeply post-amendment, from an average of 1.51 points in the pre-amendment population to 1.75 in the post-amendment group (see image above). Thus, he called the apparent efficacy signal "entangled" with variability in the placebo group. "The whole pattern of study outcomes could be explained by a randomly worsened placebo in study 302 [EMERGE] after the dose-increase amendment," Massie suggested.
The advisory panel found these data troubling. In a question-and-answer session, Craig Mallinckrodt of Biogen disagreed with Massie's conclusion, saying the company's own analysis found the differences in placebo decline to have had a minimal effect. The discussion was cut short for time, and the panelists remained unconvinced.
Did Only APOE4s Benefit? On the clinical outcome measures CDR-SB, MMSE, ADAS-Cog13, and ADCS-ADL (top to bottom), APOE4 carriers (red) fared better, while noncarriers (blue) did no better than the placebo group (dotted line). [From FDA website.]
Massie's analysis also focused on potential effects of unblinding. About one-third of the high-dose group experienced ARIA. This necessitated pauses in dosing, and MRI monitoring until the condition cleared up. Thus, affected participants became aware they were most likely on drug, as did some of their physicians. This may have affected ratings on the CDR-SB and activities of daily living (ADL) scales, which are somewhat subjective to begin with because they are based on information provided by the patient and his or her care partner. Additionally, Massie noted, the treatment effect in EMERGE was seen exclusively in APOE4 carriers, with noncarriers trending worse on drug than on placebo (see image above).
The lack of effect in noncarriers, who on the whole received more doses at the maximum 10 mg/kg, suggests either the treatment does not work for them, or the dosing issue was less critical than Biogen claimed, Massie said. That the APOE4 subgroup who had the greatest response to the drug also had the most unblinding raises the specter that this could have been a placebo effect.
Panelists, too, saw this as a problem. Madhav Thambisetty at the National Institute on Aging, Bethesda, Maryland, called it a "huge concern." Mallinckrodt countered that excluding post-ARIA data from participants did not change the overall study results. However, Massie noted that excluding this data insufficiently corrects for the effects of unblinding, since the exclusion imbalances treatment groups.
The advisory committee had other concerns about the EMERGE data. Because of the trial termination prompted by the futility analysis, almost half of the participants did not have week 78 data. In fall 2019, Biogen and the FDA collaborated to simulate completion of the trial and imputed the missing data. However, such an approach magnifies the possibility of error. "A simulated completed trial is always more uncertain than a truly completed trial," Massie said.
The cognitive benefit emerged at the final 78-week time point, and only in the high-dose group, Massie noted. Because only a single time point showed a change from placebo, the data cannot prove that the treatment slows disease progression, he said. Furthermore, the analysis plan specified that secondary outcomes were only meaningful if the low dose outperformed placebo. This kind of prioritization helps control Type 1 error. The low dose did not outperform placebo, hence findings on these secondary outcomes cannot be considered significant, Massie said.
Thambisetty and other members of the committee emphasized that the size of the claimed benefit was small, amounting to a difference of 0.40 points on the CDR-SB over 18 months. Panelists questioned whether this amount of slowing would be meaningful, especially given the cost and side effects of the treatment. On a voice vote, only one of the 11 panelists found the evidence from EMERGE convincing; eight rejected it, two were uncertain.
Negative Findings Can't Be Dismissed
One of the committee's biggest sticking points was a perceived attempt to sweep aside the negative findings from the ENGAGE study. Both Biogen's application and the clinical review from the FDA's neurologist Kevin Krudys (FDA presentation 1) argued that the negative findings could be explained by inadequate dosing, and should not detract from the positive EMERGE data. Panelists outright rejected this.
For a drug that did not work, there would be a 40 percent chance that two identical studies would be this discordant and show an apparent benefit in one, said biostatistician Scott Emerson at the University of Washington, Seattle. At best, the p value for EMERGE would have to be adjusted to take into account the negative study, Emerson suggested. Drug efficacy expert Caleb Alexander at Johns Hopkins Bloomberg School of Public Health, Baltimore, Maryland, said, "You can't look at EMERGE in isolation." The other panelists concurred, with 10 saying ENGAGE cast doubt on efficacy, and one uncertain.
Biogen threw a second post hoc pitch for disregarding the ENGAGE findings, namely that the treatment groups in this trial contained a greater number of fast progressors, arguing that their more rapid decline masked a treatment effect in the rest of the group. The committee found this unconvincing, as well. Alexander countered that there were but a few fast progressors in a group of hundreds. "I just don't see it. I don't think the evidence is there," he said. Alexander bemoaned the "extraordinary amount of explaining around the contrary [ENGAGE] findings." Massie's analysis found that excluding outliers with rapid decline did not change the overall findings for the ENGAGE high-dose group.
The Biogen application further argued that positive clinical data from the Phase 1b PRIME study could be considered supportive for approval. In that trial of 165 people with prodromal or mild AD, decline on the CDR-SB slowed after six months on drug, with the highest dose group of 10 mg/kg having the greatest benefit (Mar 2015 conference news; Sep 2016 news; Dec 2016 conference news). The study was not powered to detect cognitive benefits, and leading trialists have previously noted issues with double blinding in dose-escalation trials (Q&A in Nov 2015 conference news).
Massie determined that many of the findings in PRIME indeed were discordant with the Phase 3 trials. For example, in PRIME, APOE4 carriers fared worse than noncarriers, whereas in EMERGE they fared better. There was no clear dose-dependence in PRIME, with people on 3 mg/kg doing better than those on 6 mg/kg. Importantly, some participants started standard AD medications during the trial, which could have affected their cognitive scores. When those participants were excluded from the analysis, the results were no longer significant, going from a p value of 0.04 to 0.1, Massie calculated. The PRIME data do not demonstrate robust drug efficacy, Massie concluded. "There's no reason this data could override a large, well-controlled failed trial," Massie said.
Once again, the advisory committee agreed. Aaron Kesselheim, an expert on drug approval at Harvard Medical School, noted that the PRIME study wasn't designed to demonstrate clinical efficacy, and so its data couldn't be used to support the Phase 3 trials. Altogether, seven of the 11 panel members voted against considering these data as supportive, with the remaining four uncertain.
Biogen remains committed to bringing the drug to market now. "We are disappointed that the Advisory Committee recommendation disregarded clinical evidence and patient experience," Samantha Budd Haeberlein wrote to Alzforum (full comment below). "We will respond promptly to the statistical questions raised by the Committee and bring clarification that is much needed for the community… We will continue to work with FDA as it completes its review of aducanumab."
Who Benefits? And at What Cost?
The data left the panelists and listeners puzzled about which patients might benefit from aducanumab. Not only did the EMERGE benefit seem to be confined to APOE4 carriers, but there were also unexplained interactions with age, sex, disease stage, and even nationality. Massie's analysis placed the primary clinical benefit in people older than 70, with younger participants not significantly different from the placebo group. Men benefited more than women. People with mild AD fared better than those at prodromal stages. This would appear to counter the concept that the earlier one treats, the better. Figuring out why only some participants do better on aducanumab, and what distinguishes them, will be critical for determining the drug indication, Emerson argued.
Data All Over the Place? On this forest plot of subgroup effects in EMERGE, it appears that aducanumab worked better in older people, men, APOE4 carriers, and those with more advanced disease. By country, it may have worked in Spain but not Italy, in the Netherlands but not Germany, the U.S. but not Canada. [From FDA website.]
Country differences were dramatic in the EMERGE data. Participants in Spain and Japan experienced large benefits, those in Belgium, Sweden, Finland, France, the Netherlands, and the U.S. had modest benefits, those in other countries, none (see image above). In the U.S., the error bars around the CDR-SB effect were tight, whereas in Finland, they ran the entire range of the forest plot. In ENGAGE, country differences were also pronounced but cut across different countries, i.e., the widest error bars were posted by centers in Taiwan.
These issues matter because aducanumab has side effects. Drawing attention to one that has not been discussed much thus far, Massie's analysis found a 33 percent higher risk of falls in the EMERGE high-dose group. The reason for this is unclear.
Meanwhile, ARIA is common with treatment. It is often asymptomatic but can cause headaches and confusion. Researchers led by Lawren VandeVrede at the University of California, San Francisco, recently described a case study of an ENGAGE participant who was homozygous for APOE4 and developed severe headaches, hypertension, and epileptiform brain activity while on aducanumab. He had trouble reading, and his cognitive scores on the Montreal Cognitive Assessment plummeted. He was treated with steroids as well as anti-epileptics and hypertensive medication. After six months, his cognitive abilities returned to baseline (VandeVrede et al., 2020).
This participant, retired neurologist Daniel Gibbs at Oregon Health and Science University, Portland, told Alzforum that, if anything, he felt cognitively sharper after his ordeal. "I'm not really worried about the side effects. I believe my case of ARIA is the most severe that has been reported, and I fully recovered and may even have benefited," he wrote. He has mixed feelings about aducanumab, and believes it will do best in a preventative paradigm, before neurons are lost. "I was disappointed but not surprised that the advisory committee did not recommend approval. I hope an aducanumab study using presymptomatic APOE4 subjects will be considered in the future," Gibbs said (full comment below). Biogen had been planning an early stage trial but canceled it in 2019, to the chagrin of site leaders at the time. Gibbs has written publicly about his experience with developing Alzheimer's (Gibbs, 2019).
And What Does the Field at Large Think of All This?
Most of the Alzheimer's researchers Alzforum contacted sided with the advisory committee and agreed that aducanumab is not ready for clinical use. When asked directly, 18 out of 21 researchers Alzforum spoke with believed that more data are needed before aducanumab is approved; two were unsure. "The two trials taken as a whole do not, in my opinion, meet the level of scientific and statistical evidence required for approval," Daniel Gillen, who chairs the statistics department at the University of California, Irvine, wrote to Alzforum (full comment below). "I would like to see the FDA require another well-designed and adequately controlled randomized clinical trial."
Charles DeCarli at the University of California, Davis, thinks aducanumab could be a key drug for testing the amyloid hypothesis in secondary prevention studies, because of its dramatic effects on plaque. "But it hasn't shown sufficient efficacy to be universally used for LOAD," DeCarli noted.
Because aducanumab has to be infused, expense and logistics are also considerations. "We presently are woefully unprepared to incorporate any truly effective therapy into clinical practice," John Morris at Washington University wrote to Alzforum. Clinics will need new resources and training to enable them to diagnose and treat patients. "If the drug doesn't work, those resources will have been squandered," Morris said (see comment below).
Speaking at the advisory committee meeting, Diana Zuckerman at the National Center for Health Research in Washington, D.C., noted that approving aducanumab now could make recruitment for other AD trials more difficult, since patients may prefer to take an approved drug rather than take a chance on a new one. In a recent snap poll of more than 1,000 people by a biopharma industry newsletter, 71 percent thought the agency should reject Biogen's current application (Endpoint News).
On the FDA website, public comments submitted prior to and around the time of the meeting ran two to one against approval. Most of the critiques were from neurologists concerned about the sketchy data, while one relative of an AD patient also recommended rejecting the application because, "We need the next approved drug to be proven without a doubt to work." The comments in favor came from AD patients and caregivers, primary care physicians, advocacy groups, and a medical imaging group who noted aducanumab approval would encourage the Centers for Medicare and Medicaid Services to offer reimbursement for amyloid PET scans.
In one such comment to the FDA, Lon Schneider at the University of Southern California, Los Angeles, wrote, "To represent aducanumab as substantially effective, and in this context safe, would be misleading and ultimately hurtful for many people with Alzheimer's disease, not to mention wasteful in terms of economics and human resources."
Likewise, David Knopman at the Mayo Clinic in Rochester, Minnesota, wrote to the FDA, "I desperately wish for a genuine therapy that substantially slows or reverses the disease. Yet the evidence that aducanumab is that therapy and has any benefits in persons with AD is terribly weak." After noting the same objections as did Massie and the committee, he concluded, "Biogen needs to do a third trial with high-dose aducanumab. If the drug's benefits are truly substantial, such a trial could recruit quickly and only several hundred patients would need to be randomized." Knopman, together with Mayo colleague David Jones and Michael Greicius at Stanford, had published their concern days before the meeting (Knopman et al., 2020).
Others consider this assessment too harsh. "The FDA advisory committee meeting and its aftermath have been discouraging," Paul Aisen at USC, San Diego, wrote to Alzforum (full comment below). "The tenor of the meeting and subsequent discussion have generally been dismissive of the important, positive signals in the data." Marwan Sabbagh at the Cleveland Clinic Lou Ruvo Center for Brain Health in Las Vegas and Jeffrey Cummings at the University of Nevada, Las Vegas, noted in a response to Knopman's article that approving aducanumab could encourage more investment in and development of AD drugs (Sabbagh and Cummings, 2020).
Some reached for compromise. Pierre Tariot at the Banner Alzheimer Institute in Phoenix said that perhaps the FDA could require a quick confirmatory trial, rather than a multiyear study. In the advisory committee meeting, Emerson, the UWashington biostatistician, picked up on testimony of trial participants and their carers, who claimed that they had maintained their cognition while on drug but slipped when they had to stop. Emerson suggested that using a randomized withdrawal-of-dose study could provide clearer evidence of benefit. In this study design, all participants start on drug, and those who do not benefit are dropped from the trial. Later, some participants are switched to placebo, and worsening then indicates there was a drug benefit. This design enriches for responders, making it easier to see a treatment effect in a heterogenous population, and it minimizes the time spent on placebo, aiding recruitment.
"I personally hope this treatment pans out," Emerson added, noting his own experience caring for loved ones with Alzheimer's.—Madolyn Bowman Rogers
References
News Citations
Paper Citations
Other Citations
External Citations