Acetaminophen Derivative Tempers Microglia, Spurs Plaque Clearance
Researchers are searching for ways to dampen harmful inflammation and boost microglial phagocytosis in the Alzheimer's brain. In the November 4 Proceedings of the National Academy of Sciences, researchers led by Hee Kyung Jin and Jae-sung Bae at Kyungpook National University, Daegu, and Mi Hee Lim at the Korea Advanced Institute of Science and Technology in Daejeon, both in the Republic of Korea, debut a small molecule, DAPPD, that seems to fit the bill. DAPPD resembles acetaminophen and enters the brain easily. In two mouse models of amyloidosis, chronic administration lightened amyloid load and preserved memory. Studies with cultured mouse and human cells found that DAPDD acts specifically on microglia, blocking the activation of the NLRP3 inflammasome. This lowered inflammatory signaling and stimulated phagocytosis.
In mouse models, DAPPD lowered plaque load and improved memory.
The compound switches microglia from an inflammatory to a phagocytic state.
It inhibits the NLRP3 inflammasome.
Commenters found the study promising. "This manuscript is exciting since it shows a new small molecule that exerts therapeutic effects on two different AD murine models, both at the molecular and behavioral levels," Giulio Pasinetti at the Icahn School of Medicine at Mount Sinai, New York, wrote to Alzforum (full comment below). Michael Heneka at the German Center for Neurodegenerative Diseases in Bonn, Germany, said the data jibe with other studies. "Together with previous observations, the present work by Park and colleagues further supports the hypothesis that NLRP3 inflammasome inhibition represents a valuable therapeutic target for the treatment of Alzheimer's disease," he wrote (full comment below).
Previous research had found that Aβ can activate the NLRP3 inflammasome, and that blocking this signaling lowers amyloidosis and bolsters memory in AD mice (Dec 2012 news). Several research groups are working on ways to target the NLRP3 inflammasome (Sep 2017 news).

The authors chose to test DAPPD, short for N,N'-diacetyl-p-phenylenediamine, based on its structural similarity to anti-inflammatory compounds. Like acetaminophen, DAPPD consists of a benzene ring, but it contains two acetamide groups instead of just one (see image below). First author Min Hee Park found that DAPPD had good drug properties. It was stable in plasma and did not bind plasma proteins. About 6 percent of DAPPD in the blood entered the brain.
Park and colleagues injected 2 mg/kg DAPPD intraperitoneally into 7.5-month-old APP/PS1 mice every day for a month. By 8.5 months, untreated controls had trouble remembering the location of a hidden platform in the Morris water maze, but treated mice performed like wild-type. After another month of treatment, the researchers sacrificed the mice and examined their brains. Treated mice had about one-sixth the amount of plaque in their hippocampi and cortices as did untreated controls. In a second mouse model, 5xFAD, which develops more aggressive amyloidosis, treatment of 3-month-old mice with DAPPD for one month cut plaque load in half and maintained memory at wild-type levels. The authors noted that the APP/PS1 study tested a prevention paradigm, because treatment started before plaques formed, while the 5xFAD experiment tested the ability of DAPPD to treat established disease.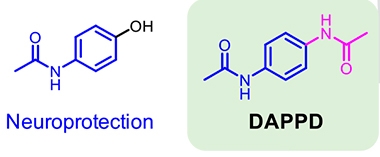 The improvements correlated with dampened inflammation. In treated APP/PS1 mice, the amount of activated, Iba-positive microglia in cortex and hippocampus was about half that in untreated controls, while the amount of astrogliosis dropped by a third. Pro-inflammatory cytokines dropped to wild-type levels. In addition, more microglia clustered around plaques than in untreated mice (see image above). These microglia had a more rounded shape, characteristic of phagocytes, and harbored twice as much Aβ in their phagolysosomes as did microglia in untreated brains. Overall, the data suggested a switch from proinflammatory to a phagocytic phenotype.
To find out if DAPPD acted directly or indirectly on microglia, the authors treated cultures of mouse microglia, astrocytes, or neurons with synthetic Aβ42 to trigger inflammation. Adding DAPPD doused inflammation in the microglial cultures, but had no effect on the other two cell types, which continued to secrete signaling proteins that trigger microgliosis. In the presence of DAPPD, microglia expressed more homeostatic and anti-inflammatory genes, such as IL-4, TGF-β, and TMEM119, and less of several pro-inflammatory markers, including IL-6, TNFα, ApoE, and TREM2. Notably, conditioned media from microglia exposed to Aβ42 triggered inflammation in astrocytes, but not if the microglia had been treated with DAPPD.
How does DAPPD soothe microglia? In treated cells, the authors found it reduced protein components of the NLRP3 inflammasome, and suppressed cleavage of its downstream target caspase-1, a major pro-inflammatory protease. This inflammasome is controlled by the transcription factor NF-κB (Bauernfeind et al., 2009). Aβ boosts expression of NF-κB, and activates NLRP3. In mouse microglial cultures treated with Aβ, DAPPD treatment lowered NF-κB to wild-type levels. It had similar effects on a human microglial cell line, suppressing expression of NF-κB and NLRP3 inflammasome proteins and switching the cells from an inflammatory to a phagocytic state. Acetaminophen did not affect NF-κB in either murine or human microglial cells, confirming that DAPPD has a distinct mechanism of action.
In ongoing work, the authors are generating a chemical library to investigate the relationship between compound structure and activity, Lim wrote to Alzforum. They hope to find more potent compounds with even better medicinal properties than DAPPD.
Commenters were intrigued by the potential. "This group and others have advanced the field by focusing on a specific signaling pathway rather than just 'microglial activation,' and that is a huge step forward," Malú Tansey at the University of Florida, Gainesville, wrote to Alzforum (full comment below). Still, she noted that many anti-inflammatory drugs have broad effects and can compromise the immune system. "Additional studies into inflammasome biology are warranted before these strategies can be deemed efficacious and safe," Tansey wrote.
Pasinetti suggested confirming that DAPPD acts only through the inflammasome by testing it on microglia from NLRP3 inflammasome knockout mice, which are viable. He noted that the specific target of DAPPD remains to be identified. It is also unclear at what stage of disease the treatment would work best.
Greg Cole at the University of California, Los Angeles, said DAPPD's mechanism of action is similar to that of curcumin, which he investigates (Nov 2001 news; Dec 2004 news). Curcumin also quenches pro-inflammatory cytokines while boosting anti-inflammatory ones. However, low doses of curcumin raise TREM2, rather than lowering it. Cole wondered whether DAPPD might also raise TREM2 under some conditions, for example in plaque-associated microglia (see comment below). Cole suggested investigating DAPPD, curcumin, and similar compounds in ApoE and tauopathy mouse models as well.—Madolyn Bowman Rogers
References
News Citations
Research Models Citations
Paper Citations
Bauernfeind FG, Horvath G, Stutz A, Alnemri ES, MacDonald K, Speert D, Fernandes-Alnemri T, Wu J, Monks BG, Fitzgerald KA, Hornung V, Latz E. Cutting edge: NF-kappaB activating pattern recognition and cytokine receptors license NLRP3 inflammasome activation by regulating NLRP3 expression.

J Immunol

. 2009 Jul 15;183(2):787-91. Epub 2009 Jul 1 PubMed.
External Citations
Primary Papers
Park MH, Lee M, Nam G, Kim M, Kang J, Choi BJ, Jeong MS, Park KH, Han WH, Tak E, Kim MS, Lee J, Lin Y, Lee YH, Song IS, Choi MK, Lee JY, Jin HK, Bae JS, Lim MH. N,N'-Diacetyl-p-phenylenediamine restores microglial phagocytosis and improves cognitive defects in Alzheimer's disease transgenic mice.

Proc Natl Acad Sci U S A

. 2019 Nov 19;116(47):23426-23436. Epub 2019 Nov 4 PubMed.