Two New Stabs at Vaccinating People Against Pathologic Tau
It's a truism that a more affordable way to ever rid the world of Alzheimer's than therapeutic antibodies would be the other kind of immunotherapy. Remember vaccines? After the first attempts tanked in the 2000s, attention pivoted sharply to antibodies, though more recently, a new generation of active immunotherapy attempts has sprung up, and two of them strutted their stuff at the Clinical Trials in Alzheimer's Disease conference, held November 29-December 2 in San Francisco.
AC Immune updates Phase 1b/2 comparison of two anti-tau vaccines.
A liposomal vaccine prompted antibody response against phospho-tau.
Preclinical data bode well for another tau vaccine; first trial slated for next year.
First, AC Immune. After its first anti-tau vaccine garnered but a meager immune response, scientists there added more kick and tried again. This did the trick, according to interim findings from a Phase 1b/2 trial presented at CTAD. AC Immune's Johannes Streffer reported that ACI-35.030, which features tau peptides anchored to a liposomal bilayer along with adjuvants, elicited a rapid and durable antibody response specific to phospho-tau and paired helical filaments in people with Alzheimer's. A protein-conjugated vaccine directed against the same tau peptide triggered a sluggish response that was less specific for these disease-associated forms of the protein, Streffer said. Both vaccines seem safe and well-tolerated thus far. AC Immune is working with Janssen to move ACI-35.030 into larger trials.
The new findings come 2.5 years after weak antibody responses to the company's first stab at a liposomal anti-tau vaccine (Apr 2020 news). Called ACI-35, the original featured a liposomal bilayer to which 16 copies of a synthetic tau fragment phosphorylated at residues S396 and S404 were anchored, along with a lipopolysaccharide-derived adjuvant called monophosphoryl lipid A. After B cells in AD patients appeared to shrug this off, the scientists added a second adjuvant and packed on a non-target T cell epitope. The latter served to rally helper T cells to stoke tau-specific antibody production by B cells. At CTAD, Streffer disclosed neither the T cell epitope nor the second adjuvant used in the so-called SupraAntigen platform.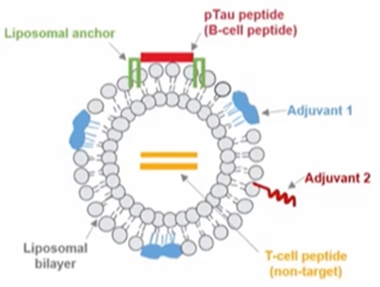 Streffer showed interim findings from a Phase 1b/2 trial of the improved vaccine, dubbed ACI-35.030, in people with early AD. The trial tested three successively higher doses. For each, six participants received the vaccine and two, placebo. Four jabs were spread out over 50 weeks, followed by safety follow-up until 74 weeks. All three doses appeared safe and well-tolerated, Streffer said
Measuring serum antibody titers against phospho-tau, tau paired helical filaments, and unphosphorylated tau two and eight weeks after each injection, the scientists found that all participants mounted an antibody response to phospho-tau two weeks after the first injection across all three dose groups. About 70 percent had mounted a response to PHFs, while 80 percent had responded to non-phosphorylated tau. At this early time point, antibody titers for p-tau topped those of the other two forms by an order of magnitude.
Importantly, as the trial went on, the antibody response shifted even further toward disease-associated forms of tau. Focusing on the mid-dose cohort for later time points, Streffer reported sustained antibody responses to p-tau and PHFs over a year, while antibodies specific for non-pathological tau waned significantly, nearing levels in the placebo group by the end of the trial. Streffer concluded that ACI-035.030 triggered a rapid, sustained antibody response to pathological forms of tau, which skewed toward those forms over time.
Streffer also reported findings from a similarly designed trial of JACI-35.054, a vaccine in which the same peptide of tau was linked to a carrier protein along with two adjuvants. JACI-35.054 also triggered an antibody response in participants with early AD; however, it required more jabs to evoke the response, and the antibodies were not specific for pathological forms of tau. Based on these findings, AC Immune/Janssen picked ACI-35.030 for future trials.
As this liposome vaccine graduates from Phase 1, another contender is about to enter it. At CTAD, Lon Schneider, University of Southern California, Los Angeles, showed preclinical findings and a proposed Phase 1 trial design for AV-1980R/A, an anti-tau vaccine developed by Michael Agadjanyan of the Institute for Molecular Medicine in Huntington Beach, California. Researchers at USC; Banner Alzheimer's Institute in Phoenix; at University of California, San Francisco; and at the University of Gothenburg in Sweden are working on the preclinical and clinical development of this vaccine, which is funded with a cooperative grant from the National Institute on Aging.
AV1980R/A is a recombinant protein vaccine. It uses a universal immune-stimulating backbone called Multi-TEP, which Agadjanyan and colleagues developed to target mischievous proteins involved in neurodegeneration. Versions targeting Aβ and α-synuclein are also in the works (Zagorski et al., 2022; Kim et al., 2022; Aug 2021 conference news). Multi-TEP straps an antigen of choice to a series of antigenic peptides from common pathogens that most people have been exposed to or vaccinated against. These peptides rally memory T helper cells, and the hope is that, once revived, this pep squad will bolster anti-tau antibody production by B cells. Multi-TEP was designed to rouse the flagging immune systems of older people, which tend to have memory T cells but few naïve T cells.
AV1980R/A targets a stretch of tau's N-terminus. It includes three tandem copies of residues 2 to 18, which contain the protein's phosphatase-activating domain (PAD). This domain reportedly is important for tau's aggregation-mediated toxicity and becomes exposed once tau starts to aggregate (Combs et al., 2016). These two factors inform the rationale behind this choice of tau peptide for AV1980R/A, even as previous therapeutics antibodies taking aim at tau's N-terminus have failed in the clinic. Agadjanyan and colleagues pointed out that antibodies spurred by AV-1980R/A recognize different epitopes than those targeted by other N-terminal antibodies, including semorinemab, tilavonemab, and gosuranemab.
So far, preclinical findings in rodents and nonhuman primates indicate that the vaccine provokes a robust anti-tau antibody response without toxicity (Hovakimyan et al., 2022; Hovakimyan et al., 2019; Davtyan et al., 2019). In a nonhuman primate study published last October, AV1980R/A activated a broad repertoire of Multi-TEP-specific T helper cells, which spurred B cells to churn out antibodies specific to the PAD region of tau. These, in turn, latched on to tau tangles and neuropil threads from AD brain samples, but not to tau in brain sections from non-AD controls. Based on these findings, the scientists propose moving AV1980R/A into human trials.
The idea is to use the vaccine for primary prevention in healthy adults at risk for AD, Schneider said. For this first study, Schneider said cognitively normal people in the preclinical stages of AD will be enrolled based on the PrecivityAD2 biomarker test, which takes into account the blood Aβ42/40 ratio and p-tau217, as well as ApoE genotype. The multiple ascending dose study will test three doses of the vaccine against placebo. Participants will receive four doses of the vaccine or placebo over 36 weeks, followed by a 56-week follow-up. This first-in-human study will test safety and tolerability of the vaccine, and will also measure antibody and T cell responses, and multiple AD blood biomarkers, Schneider proposed. The vaccine currently awaits IND approval by the FDA, which is anticipated by May 2023.—Jessica Shugart
References
News Citations
Therapeutics Citations
Paper Citations
Further Reading
No Available Further Reading