German Network of 700 FTLD Patients Presents Baseline Data
An 11-center consortium of clinical centers in Germany has enrolled 700 patients with symptomatic frontotemporal lobar degeneration (FTLD), most at early stages of disease, plus 10 presymptomatic at-risk relatives. Coordinated by Markus Otto of the University of Ulm, and funded by the government, the Multicentric FTLD Consortium's Study reported data from its baseline visit at the 9th International Conference on Frontotemporal Dementia, held October 23 to 25 in Vancouver, Canada. Participants are returning for their follow-up visits, and the investigators are optimistic that they have enough cooperation from patients and their families to turn the project into a long-term natural history observation of the progression of FTD.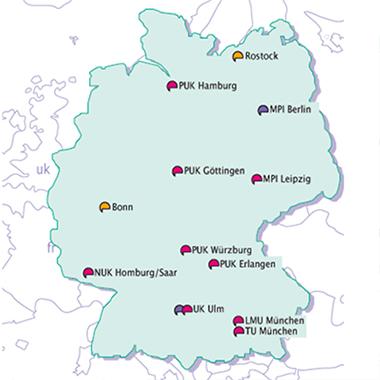 This network includes patients across the clinical range of FTLD subtypes, from behavioral to language, parkinsonian and ALS-like, as well as some who have a still-undefined neurologic disease. It also includes people with Alzheimer's disease and amyotrophic lateral sclerosis (ALS) as positive controls of these two ends of the spectrum, as well as neurologically healthy people as negative controls. The standardized protocol includes a similar range of clinical, neuropsychological, brain imaging, and fluid biomarker assessments as the Genetic FTD Initiative (GENFI) (see Part 2 of this series), and it also calls in its participants once a year. This deep phenotyping and biomarker study aims to capture transitions between clinical syndromes as patients progress. Another goal is to define both the differential diagnosis and outcome markers for use in therapeutic trials.
The German FTLD consortium accepts both sporadic and familial cases, in hopes of using their DNA for research on additional risk or causative gene variants. Two-thirds of the participants thus far have been genotyped, and more have expressed interest, Otto told Alzforum. Both participants and study staff are blinded to genetic results; people who want to know their status undergo genetic counseling and separate clinical-grade testing.
At ICFTD, the researchers presented baseline data on some 500 FTLD patients. As in GENFI, the achievement at present lies largely in having established a cohort and executing a standardized protocol across centers. People with FTLD can be socially disinterested or apathetic, raising the question of whether they will consent to altruistic commitments such as donating their time and tissue samples to research.
"We report no sensational scientific news from baseline," Otto said. "But we can confirm the data from small, single-center studies in our large multicenter cohort, and show that we cover the entire spectrum of FTLD. It's a robust foundation for longitudinal observation." One worry with longitudinal cohort studies that ask a lot of their participants tends to be: Will they come back? In this study, 200 patients thus far have completed their first follow-up visit, and compliance is good, Otto told Alzforum.
Some data snippets: CSF analysis of 280 patients suggests that tau and phospho-tau are elevated in the logopenic variant of PPA (which is thought to be due to Alzheimer's pathology). Among patients with behavioral variant (bv)FTD, tau was up in tau mutation carriers but not C9ORF72 mutation carriers. One patient with FTD symptoms and frontal atrophy turned out to have a presenilin mutation; he had an AD-like CSF signature of elevated tau/reduced Aβ. Progranulin was down in progranulin mutation carriers. Differences to some prior reports came up with neurofilament, an emerging marker in the FTD spectrum (Landqvist Waldo et al., 2013; Scherling et al., 2014). In the German cohort, neurofilament levels were elevated only in those subtypes of FTLD that had an element of ALS in their symptoms, said Otto. None of the other clinical FTLD diagnoses showed significant changes in these markers, or in CSF Aβ.
On brain imaging of FTLD subgroups at baseline, volumetry of 19 patients with progressive supranuclear palsy (PSP) showed shrunken gray matter in the basal ganglia, brainstem, and cerebellum, whereas 20 people with corticobasal degeneration (CBD) had shrinkage in their left frontal cortex. Twenty participants with ALS-bvFTD had lost gray matter in both sides of their frontotemporal cortices, as well as subcortically in the striatum and hippocampus. Sixteen people with bvFTD had atrophy in the posterior insula and in other cortical and subcortical regions. Thirty people with PPA had atrophy in a wide range of cortical and subcortical regions corresponding to language networks. In toto, these studies validated the consortium's criteria for image acquisition and processing. They came in with low variability despite using different scanners at the respective sites, the scientists claim.
Matthias Schroeter at the Max Planck Institute for Human Cognitive and Brain Sciences, Leipzig, a consortium site, used the study's data to evaluate the imaging component of new diagnostic criteria for the FTLD subtypes (Rascovsky et al., 2011; Gorno-Tempini et al., 2011). Schroeter subjected the network's multimodal data to a process called "quantitative anatomical likelihood estimate meta-analyses," which adheres to the PRISMA statement on reporting standards in health care research. This type of meta-analysis, Schroeter said, will be able to pinpoint the neural correlate for FTLD subtypes. By using machine learning and pattern recognition, researchers one day will be able to use data from multimodal imaging of a given patient for an earlier-stage differential diagnosis than clinical methods.
Like GENFI, the German network started in 2011 (Otto et al., 2011). It receives funding from the Federal Ministry of Education and Research (BMBF) until 2017 but hopes to continue beyond that, said consortium member Janine Diehl-Schmid of the Technical University in Munich. Otto told Alzforum that the German consortium is open to harmonizing and sharing its data with international cohorts so that it can be pooled and boost scientific power for analysis.
Diehl-Schmid, along with Manuela Neumann of the University of Tuebingen, will co-host the next ICFTD conference in Munich in 2016.—Gabrielle Strobel
References
News Citations
Paper Citations
External Citations
Further Reading
No Available Further Reading