CONFERENCE COVERAGE SERIES
Alzheimer's Association International Conference 2015: ADAD Family Conference
Washington, D.C.
18 July 2015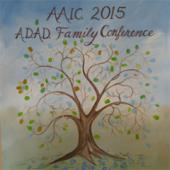 Throughout the five days of the 2015 Alzheimer's Association International Conference, conversation resonated in the hallways about a unique, daylong preconference for some 100 relatives of people with autosomal-dominant AD, who traveled to Washington, D.C., from four continents. The pre-meeting presaged how preventing early-onset AD could, in time, benefit all of Alzheimer's disease treatment.
A sense of shared purpose energized a day of exchange between families with autosomal-dominant AD and researchers engaged in the Dominantly Inherited Alzheimer Network.
Bypass budget promises tide may be turning on an underfunded disease as families with autosomal-dominant Alzheimer's discuss how to navigate their daily challenges.
Regulatory and pharma scientists fielded pleas from families with autosomal-dominant Alzheimer's disease just prior to the AAIC conference.