CONFERENCE COVERAGE SERIES
African-American Participation in AD Research: Effective Strategies
Saint Louis, Missouri
10 October 2018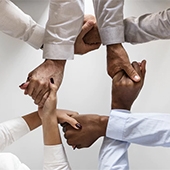 Is Alzheimer's more common, or different, in black Americans? Or do cerebrovascular risk factors account for much of that community's disproportionate dementia burden? There's too little data to know, because minorities are underrepresented in observational and therapeutic studies on Alzheimer's disease and related dementias. That may soon change. Researchers across the federally funded Alzheimer's Disease Centers are being asked to step up recruitment and retention in culturally sensitive, community-building ways. A recent workshop at Washington University, St. Louis, saw lively debate of the issue, and those interested in studying minority recruitment can apply for a R24 grant dedicated to the topic. Read Gabrielle Strobel's two-part report.
Despite having a higher incidence of Alzheimer's or a related dementia, relatively few black people participate in research studies or drug trials. How to achieve full representation?
At a workshop on engaging more black Americans in ADRD research, new CSF findings stood out against a general dearth of data on Alzheimer's disease in underrepresented minorities.