Field Loses Chad Dickey, 40, to Cancer
Chad Dickey, associate professor at the Byrd Alzheimer's Institute at the University of South Florida, Tampa, passed away last Friday, November 25, after a short bout with cancer. "Chad was an incredible scientist who was just starting to shine, and he was a genuinely good person. He will be sorely missed by me and many who knew him," said Leonard Petrucelli, Mayo Clinic, Jacksonville, Florida. Dickey had just turned 40 in July. Services will be held Friday, December 2, beginning at 10 a.m. at the Idlewild Baptist church in Lutz, Florida.
Dickey worked with Petrucelli at the Mayo Clinic and before that with Dave Morgan at USF before setting up his own lab at the Mayo Clinic in 2004 and then at USF in 2006. Dickey studied the role of chaperones in proteostasis and in neurodegenerative diseases, particularly tauopathies. He found that heat shock protein 90 partners with co-chaperones to pull hyperphosphorylated tau from the mouth of the proteasome and then refold it into potentially toxic oligomers (see May 2007 news; Sep 2013 news). More recently, Dickey and colleagues reported that the heat shock complex Hsc70/DnaJC5 guides misfolded proteins, including tau and α-synuclein, out of neurons, potentially contributing to their propagation throughout the brain (see Jun 2016 news).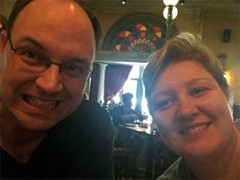 Dickey was passionate about research and believed that tweaking the activities of the 150 or so chaperones in the body held promise for treating a range of neurodegenerative and other diseases. He was generous with his time and readily responded to Alzforum's requests for expert commentary on all things proteostatic. "I can think of no other person I had such respect for, both scientifically and personally," wrote Donna Wilcock, University of Kentucky, Lexington, who trained with Dickey at Morgan's lab (see full tribute below). "Chad was an outstanding scientist, wonderful teacher and mentor to many, but most of all, a really, really good person."
We invite friends, colleagues, and students to celebrate his life by emailing thoughts, memories, anecdotes, or photos to tfagan@alzforum.org for posting on Alzforum.—Tom Fagan
References
News Citations
Other Citations
Further Reading
No Available Further Reading