Field Loses Beloved Wizard of Glia, Ben Barres, 63
Alzheimer's researchers, and colleagues across neuroscience, are mourning the loss of Ben Barres, who died December 27 of pancreatic cancer at the age of 63. First diagnosed in March 2016, Barres continued pursuing the work he loved and discussed research plans until the very end. His last act as a scientist, days before his passing, was to complete letters of recommendation for all his trainees.
Barres had a passion for glia, those long-overlooked cells that make up the bulk of the brain. His work helped launch glial research into the mainstream. It convinced other scientists that these cells are far more than just passive "glue" that binds neurons together, and that they play active roles in shaping, maintaining, and destroying brain connections. More than a decade ago, at Stanford University, Barres uncovered that astrocytes help regulate synapse formation and transmission (Jan 2001 news; Christopherson et al., 2005). Later, Beth Stevens in his group found that astrocytes and microglia prune synapses in response to signals from complement proteins of the innate immune system, both during development and in neurodegenerative disease (Dec 2007 news). This work, which Stevens continues in her own lab, may help researchers devise ways to stem synapse loss in AD and other disorders (Mar 2015 conference news; Nov 2015 conference news; Apr 2016 news). In 2011 Barres cofounded a company, Annexon Biosciences, to develop therapeutics that target this system. An antibody directed against complement protein C1q is in Phase 1.
While Barres' synaptic and complement discoveries generated headlines, he advanced the field of glial biology more broadly, in part by providing comprehensive catalogues of gene expression by various types of purified glial cell. His transcriptome database for mouse astrocytes, oligodendrocytes, and neurons became widely used; Barres noted that it was his most cited scientific paper (Jan 2008 news). More recently, Barres published transcriptomes for human astrocytes and mouse microglia (Jan 2016 news; Jun 2017 news). Other studies in his lab plumbed the mysteries of oligodendrocyte behavior, and uncovered glia-glia interactions that may hold the key to toxicity in neurodegenerative disease (Mar 2010 news; Jan 2017 news).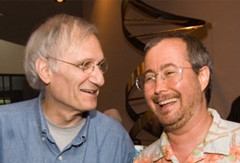 Beyond his groundbreaking research, Barres gained recognition in the research community at large as a fierce advocate for diversity in science. Barres transitioned from woman to man at the age of 43. Experiencing how others reacted to him as first a female and then a male scientist gave him a unique perspective on the biases women face. His 2006 essay "Does Gender Matter?" triggered thousands of emails from female scientists describing their own experiences with gender discrimination (Barres, 2006). In 2013, Barres was the first transgender scientist to be elected to the National Academy of Sciences. He also championed the rights of young scientists; in the final year of his life, he argued in Nature that postdocs should be allowed to take their lines of research with them to their own labs (Barres, 2017). Barres' life story and advocacy brought him lasting fame, and his death was covered across the scientific and general media. A recent story in The Scientist includes an in-depth interview about his life.
Taking the lab for a hike, circa 2005. Barres is at the far left. [Courtesy of Shane Liddelow.]
People who worked for Barres cite his extraordinary dedication to mentoring. He tirelessly promoted the careers of his mentees, and encouraged them to present their own research at conferences. He considered it essential that a scientist learn to discuss his or her research clearly, and lab meetings became marathon affairs as Barres argued about small details of the science. Barres prioritized helping students with their talks over his own needs. Mariko Bennett at Stanford told Alzforum that Barres was in the hospital recovering from a heart attack on the morning of her thesis defense, but still insisted on going over her talk with her to make sure she was ready. He was notorious for sending emails about research at two in the morning, leading his trainees to wonder if he ever slept.
Shane Liddelow, who is starting his own lab at New York University Langone Medical Center, told Alzforum that Barres allowed trainees to pursue their own research interests even when they diverged from other lab projects. "He trained people to be scientists, not to make him look good," Liddelow said.
Barres continued following his trainees' careers after they left the lab, offering advice when asked and encouraging them to apply for grants and awards. "Like a parent, he celebrated our accomplishments as if they were his own," said Cagla Eroglu, now at Duke University. His mentorship extended beyond his lab to other young scientists. "I was never in his lab, but I owe him most of the major accomplishments in my career," Ricardo Dolmetsch, now at Novartis, wrote to Alzforum (see full comment below).
Colleagues recalled honesty, humor, and a forthright style. Barres showed up to formal meetings in shorts and an untucked shirt, and had no compunctions about calling out weak research, noted Adriano Aguzzi at the University of Zurich (see full comment below). At the same time, boundless curiosity, enthusiasm, and a warm personality earned him friends wherever he went. "He was so incredibly imaginative and innovative in the way he approached things. He had as much or more intellectual energy than anyone I have known," David Holtzman at Washington University in St. Louis wrote to Alzforum. During his illness, Barres made arrangements to donate his brain for study after his death. In his last summer, he noted, tongue in cheek, "I am feeling increasingly guilty for holding up the research!"
Despite a life cut short, Barres' career was prolific. His first paper on astrocytes and oligodendrocytes was published under the name Barbara Barres in 1988, and was followed by 182 additional ones. Alzforum covered Barres' work in the news 16 times. He was generous with this time and collegial whenever Alzforum reporters requested his input on papers they were covering, and contributed 23 written comments since 2006. AD research history buffs may enjoy an Alzforum webinar chat with Barres from 12 years ago, long before the field at large had caught on to the importance of astrocytes and microglia in neurodegeneration (2005 webinar). Barres served on Alzforum's scientific advisory board in 2007.
At the latest Harry Potter movie. [Courtesy of Shane Liddelow.]
In his personal life, Barres devoted much energy to exercise and dietary experiments. He loved biking and frequently took his whole lab on hikes in the California hills. He was a fan of the Atkins diet, but tried other approaches as well, from ketogenesis to pescovegetarianism. Aguzzi remembered one evening in a restaurant, when a salad covered in a sugary glaze "triggered a stern lecture to the waiter on insulin and fatty acid breakdown." Barres loved good coffee, and felt deprived when the side effects of chemotherapy made it impossible for him to enjoy it anymore. He read voraciously, especially science fiction. Barres identified with the character of Harry Potter, the young wizard who feels like an outcast, devouring each new book in a single weekend and taking the lab to see the movies.
Barres never married or had children, but considered his trainees and fellow scientists his extended family. "Ben's light was not so much extinguished as distributed among dozens, hundreds, or thousands of others," wrote Mark Tuszynski at the University of California, San Diego.
Did you know Ben? Contribute a memory or photo to our community tribute page below.—Madolyn Bowman Rogers
Note: Madolyn Bowman Rogers was a graduate student in Ben Barres' lab from 2001–2007.