Alzheimer's Field Loses Fred van Leeuwen, 71
Fred van Leeuwen, professor at the Maastricht University in the Netherlands, passed away Wednesday, January 13. Van Leeuwen is best known for his discovery of a faulty transcription mechanism, dubbed "molecular misreading," in the neurons of people who had sporadic Alzheimer's disease. He frequently contributed to Alzforum.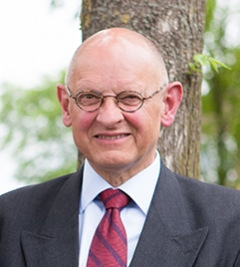 Van Leeuwen's seminal paper made the cover of Science in 1998 (van Leeuwen et al., 1998). He found that despite having normal DNA, neurons in some people ended up with fewer nucleotides in mRNAs for amyloid precursor protein (APP) and ubiquitin B (UBB). These deletions caused a 1-nucleotide frameshift that led to premature truncation of the two proteins (Apr 1999 news; van Leeuwen et al., 2000). The shortened proteins, dubbed APP+1 and UBB+1 to denote the frameshift, accumulated in plaques or clogged the proteasome, respectively (Dec 2004 conference news). Van Leewen's work was featured in one of the earliest Alzforum webinars (May 1998 webinar).
In cultured neurons, UBB+1 triggered cell death (De Vrij et al., 2001). APP+1 turned out to be secreted from neurons, but much less turned up in the CSF of people with Alzheimer's compared to healthy controls, suggesting problems secreting the protein (Hol et al., 2003). Neuronal accumulations of APP+1 and UBB+1 were found in people with frontotemporal dementia, Pick's disease, progressive supranuclear palsy, and Huntington's, but not Parkinson's (van Leeuwen et al., 2006; Dennissen et al., 2010).
Van Leeuwen created UBB+1 transgenic mice; they had dysfunctional proteasomes in their brains and performed poorly on memory tests (Fischer et al., 2009). His lab crossed the UBB+1 mice with the APPPS1 mouse model of amyloidosis. Paradoxically, the offspring had smaller plaque loads than their parents, but still had behavioral deficits (Verheijen et al., 2018).
Van Leeuwen began his research career at the Netherlands Institute for Brain Research in 1974. He remained there for 32 years until he moved to Maastricht University in 2007. We invite friends and colleagues to celebrate his life by emailing tributes to tfagan@alzforum.org for posting on Alzforum.—Chelsea Weidman Burke
References
News Citations
Webinar Citations
Paper Citations
Other Citations
Further Reading
No Available Further Reading