Overview
Pathogenicity: Alzheimer's Disease : Unclear Pathogenicity
Clinical Phenotype: Alzheimer's Disease
Reference Assembly: GRCh37/hg19
Position: Chr6:41126429 G>A
dbSNP ID: rs2234258
Coding/Non-Coding: Coding
Mutation Type: Point, Nonsense
Codon Change: TGG to TAG
Reference Isoform: TREM2 Isoform 2 (219 aa)
Genomic Region: Exon 4 of transcript variant 2

Findings
The rs2234258 variant is present only in transcript variant 2, the shortest TREM2 transcript. This transcript encodes most of the extracellular domain, but lacks the coding region for the transmembrane domain; thus the predicted protein may be a soluble form of TREM2. The variant introduces a premature stop codon in place of tryptophan at amino acid 191.
A trend toward an association with increased risk for Alzheimer's disease in African-Americans was found in one study (odds ratio: 1.35, p = 0.08) (Jin et al., 2015). However, the W191X variant is in linkage disequilibrium with three other TREM2 variants reported to be associated with AD: rs2234256 (L211P) (Jin et al., 2015; Piccio et al., 2016), rs2234253 (T96K) (Piccio et al., 2016), and rs7748513 (intron variant) (Reitz and Mayeux, 2013). When the analysis was adjusted for the presence of L211P, the association of W191X with AD risk was no longer significant (odds ratio: 1.10, p = 0.63). The W191X variant was not associated with AD risk in a cohort of North Americans of European descent (Jin et al., 2014).
Neuropathology
Levels of soluble TREM2 in CSF were significantly lower in carriers of the T96/W191X/L211P variants than in noncarriers (all CDR=0) (Piccio et al., 2016).
Biological Effect
Unknown.
Last Updated: 07 Feb 2018
References
Paper Citations
Other Citations
Further Reading
No Available Further Reading
Protein Diagram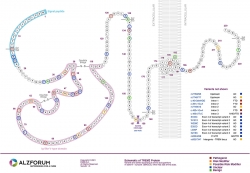 Primary Papers
Jin SC, Carrasquillo MM, Benitez BA, Skorupa T, Carrell D, Patel D, Lincoln S, Krishnan S, Kachadoorian M, Reitz C, Mayeux R, Wingo TS, Lah JJ, Levey AI, Murrell J, Hendrie H, Foroud T, Graff-Radford NR, Goate AM, Cruchaga C, Ertekin-Taner N. TREM2 is associated with increased risk for Alzheimer's disease in African Americans.

Mol Neurodegener

. 2015 Apr 10;10:19. PubMed.
Disclaimer: Alzforum does not provide medical advice. The Content is for informational, educational, research and reference purposes only and is not intended to substitute for professional medical advice, diagnosis or treatment. Always seek advice from a qualified physician or health care professional about any medical concern, and do not disregard professional medical advice because of anything you may read on Alzforum.