Overview
Pathogenicity: Frontotemporal Dementia : Not Classified
Clinical Phenotype: Frontotemporal Dementia
Reference Assembly: GRCh37/hg19
Position: Chr1:227076655 A>G
dbSNP ID: NA
Coding/Non-Coding: Coding
Mutation Type: Point, Missense
Codon Change: TAC to TGC
Reference Isoform: PSEN2 Isoform 1 (448 aa)
Genomic Region: Exon 8

Findings
This mutation was reported in an Italian patient who developed behavioral abnormalities and language impairment that resembled frontotemporal dementia at the age of 52. Later in the course of the disease he developed more extensive cognitive impairment, including severe impairment of visuospatial perception, visual attention, and visuomotor coordination. The proband also developed hallucinations, delusions, and severe psychomotor agitation. There was a family history of dementia. The proband's mother died at age 83 with a history of dementia from age 65. The mother's sister died at age 80 with a diagnosis of Parkinson's disease. Segregation could not be assessed, but the Y231C mutation was not found in 100 healthy controls or in 100 patients with sporadic AD (Marcon et al., 2009).
A single South Asian heterozygote carrier was reported in the gnomAD variant database (v2.1.1, Nov 2021).
Neuropathology
Unknown. MRI showed subcortical and diffuse cortical atrophy, particularly in the frontotemporoparietal lobes (Marcon et al., 2009).
Biological Effect
The biological effects of this variant are unknown, but its PHRED-scaled CADD score, which integrates diverse information in silico, was above 20, suggesting a deleterious effect (CADD v.1.6, Nov 2021).
Last Updated: 06 Nov 2021
Protein Diagram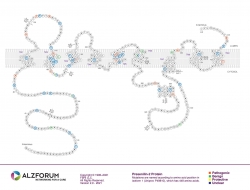 Primary Papers
Marcon G, Di Fede G, Giaccone G, Rossi G, Giovagnoli AR, Maccagnano E, Tagliavini F. A novel Italian presenilin 2 gene mutation with prevalent behavioral phenotype.

J Alzheimers Dis

. 2009;16(3):509-11. PubMed.
Alzpedia
Disclaimer: Alzforum does not provide medical advice. The Content is for informational, educational, research and reference purposes only and is not intended to substitute for professional medical advice, diagnosis or treatment. Always seek advice from a qualified physician or health care professional about any medical concern, and do not disregard professional medical advice because of anything you may read on Alzforum.