Overview
Pathogenicity: Alzheimer's Disease : Uncertain Significance
Clinical Phenotype: Alzheimer's Disease
Reference Assembly: GRCh37/hg19
Position: Chr1:227075817 C>T
dbSNP ID: NA
Coding/Non-Coding: Coding
Mutation Type: Point, Missense
Codon Change: TCT to TTT
Reference Isoform: PSEN2 Isoform 1 (448 aa)
Genomic Region: Exon 7

Findings
This variant was identified in a large Turkish family with a history of early onset dementia (Guven et al., 2021). The proband was a 58-year-old man who first developed memory loss and behavioral problems, including disinhibition and hyperorality, at age 52, with delusions and aggression surfacing later. At 58, he had severe memory and attention deficits, as well as impairments in visual-spatial and executive function. He also had mild Parkinsonism, including bradymimia, asymmetrical bradykinesia in his upper extremities, and Parkinsonian gait. Screening of 12 genes associated with neurodegenerative disorders, including PSEN1, PSEN2, and APP, revealed the PSEN2 S175F mutation.
Although the family history was consistent with autosomal dominant inheritance, the mutation did not segregate consistently with disease. The family included 42 members with nine affected individuals spanning four generations. Five of 17 members who were genotyped carried the mutation, but only two of them were affected. Interestingly, the three unaffected carriers, who were 65 years of age or older, had APOE2/E3 genotypes, whereas the two affected carriers, 49 and 58 years old when examined, had APOE3/E3 and APOE3/E4 genotypes, respectively. The unaffected carriers were 81, 68, and 65 years old and showed no signs of impairment as assessed by neurological and mental status examinations. Also of note, the oldest of the unaffected members who did not carry the mutation was only 65, still within the wide range of age at onset in this family. Thus, these members were not informative in the assessment of segregation.
This variant was absent from several databases, including EVS, 1000 Genome, dbSNP, gnomAD, and HEX, which includes variants from individuals without evidence of neurodegeneration at the time of death.
Neuropathology
Neuropathological data are unavailable, but brain imaging of the proband revealed hypometabolism and atrophy consistent with AD. In brief, hypometabolism was observed in the bilateral parietal and posterior midline structures, as well as in the bilateral prefrontal and temporal cortices, particularly on the left side. In addition, atrophy was found in the hippocampus and frontoparietal cortices.
The proband's maternal cousin, also an affected carrier, showed no abnormalities as assessed by MRI before AD diagnosis, near the time of symptom onset.
Biological Effect
This variant is located in an evolutionarily conserved residue within transmembrane domain III which is also conserved at the homologous site in PSEN1. In silico algorithms, including PolyPhen2, Mutation Taster, Provean, and SIFT, predicted the substitution is damaging, with a CADD/Phred score of 27.4. The authors noted that structural analyses indicated the variant may alter interactions between α-helices, without changing the large-scale structure of the protein. The substitution is expected to allow F175 to interact with W171, resulting in the rotation of W171's side-chain which, in turn, could promote the extension of the transmembrane α-helix via the addition of L166-H169. Another variant at this site was identified in a family with early onset AD, and there are reports of nearby variants being pathogenic. Based on these considerations, the authors proposed S175F may be pathogenic, with APOE2 acting as a genetic modifier that protects against AD or delays its onset.
Last Updated: 05 Nov 2021
Further Reading
No Available Further Reading
Protein Diagram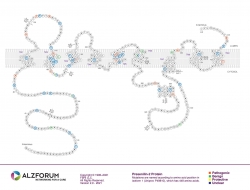 Primary Papers
Guven G, Samanci B, Gulec C, Hanagasi H, Gurvit H, Gokalp EE, Tepgec F, Guler S, Uyguner O, Bilgic B. A novel PSEN2 p.Ser175Phe variant in a family with Alzheimer's disease.

Neurol Sci

. 2021 Jun;42(6):2497-2504. Epub 2021 Apr 15 PubMed.
Other mutations at this position
Disclaimer: Alzforum does not provide medical advice. The Content is for informational, educational, research and reference purposes only and is not intended to substitute for professional medical advice, diagnosis or treatment. Always seek advice from a qualified physician or health care professional about any medical concern, and do not disregard professional medical advice because of anything you may read on Alzforum.