Mutations
PSEN2 N141I (Volga German)
Overview
Pathogenicity: Alzheimer's Disease : Pathogenic
Clinical Phenotype: Alzheimer's Disease
Reference Assembly: GRCh37 (105)
Position: Chr1:227073304 A>T
dbSNP ID: rs63750215
Coding/Non-Coding: Coding
Mutation Type: Point, Missense
Codon Change: AAC to ATC
Reference Isoform: PSEN2 isoform 1 (448 aa)
Genomic Region: Exon 5
Research Models: 5

Findings
This was the first pathogenic mutation described in PSEN2; it was discovered in conjunction with the cloning of the gene (Levy-Lahad et al., 1995; Rogaev et al., 1995). It is also the most common PSEN2 mutation worldwide, with more than 11 families identified. The origin of these families has been traced to a region along the Volga River in Russia (Bird et al., 1988).
The clinical features associated with the N141I mutation were recently summarized in a comprehensive review of PSEN2 mutations (Jayadev et al., 2010). Clinical data for 101 affected individuals in 11 families was reported. The number of affected individuals per family varied from two to 26. The mean age of onset was 53.7 years (range: 39 to 75 years). The mean age at death was 64.2 years, and the mean disease duration was 10.6 years. In these families, disease onset was characterized by memory problems and/or other cognitive deficits. The disease course tended to be slower than is typical of other familial AD mutations, especially those in PSEN1. Pyramidal signs or parkinsonian symptoms were not common early in the disease. Of the 64 AD patients with detailed medical records, 31 percent had one or more seizures and 33 percent had hallucinations, delusions, or other psychotic features.
Although the clinical penetrance of this mutation is very high (approximately 95 percent), there are a few isolated reports of decreased penetrance in which individuals reached the ninth decade without cognitive decline. One mutation carrier in the HB family was cognitively intact at age 80 when he died from cancer. Another presumed N141I carrier from the H family was similarly dementia-free when he died at age 89, also from cancer.
Two additional carriers of the Volga German mutation were recently identified in Germany (Blauwendraat et al., 2015). Haplotype analysis suggested that they are part of the larger Volga German kindred. One mutation carrier developed progressive dementia at age 51 and died at age 61 following a disease characterized by memory loss, rigidity, and generalized tonic-clonic seizures. The other mutation carrier in the study, not known to be related, developed language impairment and personality changes at age 56, including word-finding difficulties and a blunt affect. She was originally diagnosed with the FTD subtype, progressive nonfluent aphasia. However, her prominent memory decline prompted a revised diagnosis of logopenic variant of primary progressive aphasia due to AD. She later developed tonic-clonic seizures. Her father had died from AD at age 60, and her sister was similarly affected, with onset at age 55.
On a historical note, Alois Alzheimer's famous patient, Auguste Deter (Auguste D.), lived in the same region of Germany as a modern-day family with the N141I mutation. This raised the possibility that she too may have carried this mutation (Yu et al., 2010); however, this was later shown not to be the case (Müller et al., 2011; Rupp et al., 2014).
Neuropathology
In general, postmortem analysis of affected N141I mutation carriers has shown extensive amyloid plaques and neurofibrillary tangles, with 17 of 18 brain samples receiving a Braak score of V or VI and a CERAD plaque score of C, thus fulfilling pathologic criteria for definite Alzheimer's disease (Braak and Braak, 1991; Mirra et al., 1991). Inclusions of α-synuclein were common in the amygdala (14/18, 78 percent) but much less common in the substantia nigra (7/16, 44 percent) and the neocortex (3/17, 18 percent). TDP-43 pathology was not commonly observed (3/13, 23 percent). Hippocampal sclerosis was similarly rare (3/13, 23 percent). For additional details, see Jayadev et al., 2010.
Biological Effect
When transfected into fibroblasts lacking endogenous PSEN1 or PSEN2, the N141I mutation did not affect steady-state levels of the proteolytic products PSEN2-CTF and PSEN2-NTF compared with wild-type PSEN2. When co-transfected with APP carrying the Swedish mutation, the N141I mutation produced elevated levels of Aβ42 and increased the Aβ42/Aβ40 ratio (Walker et al., 2005).
Last Updated: 15 Jan 2016
References
Paper Citations
Other Citations
Further Reading
Learn More
Protein Diagram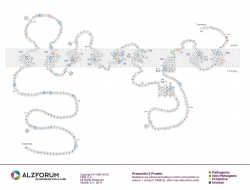 Primary Papers
Levy-Lahad E, Wasco W, Poorkaj P, Romano DM, Oshima J, Pettingell WH, Yu CE, Jondro PD, Schmidt SD, Wang K. Candidate gene for the chromosome 1 familial Alzheimer's disease locus.

Science

. 1995 Aug 18;269(5226):973-7. PubMed.
Rogaev EI, Sherrington R, Rogaeva EA, Levesque G, Ikeda M, Liang Y, Chi H, Lin C, Holman K, Tsuda T. Familial Alzheimer's disease in kindreds with missense mutations in a gene on chromosome 1 related to the Alzheimer's disease type 3 gene.

Nature

. 1995 Aug 31;376(6543):775-8. PubMed.
Other mutations at this position
Alzpedia
Disclaimer: Alzforum does not provide medical advice. The Content is for informational, educational, research and reference purposes only and is not intended to substitute for professional medical advice, diagnosis or treatment. Always seek advice from a qualified physician or health care professional about any medical concern, and do not disregard professional medical advice because of anything you may read on Alzforum.