Mutations
PSEN2 G359Lfs*74 (Intron 11 delAG)
Overview
Pathogenicity: Amyotrophic Lateral Sclerosis : Not Classified
Clinical Phenotype: Amyotrophic Lateral Sclerosis
Reference Assembly: GRCh37/hg19
Position: Chr1:227081706-227081707 AG>--
dbSNP ID: NA
Coding/Non-Coding: Both
Mutation Type: Deletion
Reference Isoform: PSEN2 Isoform 1 (448 aa)
Genomic Region: Intron 11

Findings
This mutation involves the deletion of an adenine and guanine in intron 11 which abolishes the canonical splice acceptor site of exon 12 (Perrone et al., 2018). This leads to exon 12 skipping and a frameshift starting at codon G359 which generates a new termination codon in the 3' UTR.
The variant was reported in a patient with Moroccan ancestry who was diagnosed with amyotrophic lateral sclerosis. A single heterozygote of non-Finnish European ancestry was reported in the gnomAD database (v2.1.1, Nov 2021).
Perrone and colleagues also identified two Belgian individuals with a related variant involving a deletion of a single nucleotide in the same splice acceptor site that results in the same frameshift, G359Lfs*74 (Intron 11 delA). One of these patients was diagnosed with amnestic mild cognitive impairment at age 55, and the other developed AD symptoms after age 78.
Neuropathology
Unknown.
Biological effect
The biological effect of this mutation is unknown, but the related G359Lfs*74 (Intron 11 delA) mutation appears to reduce PSEN2 stability (Perrone et al., 2018). Mutant protein levels were more than fourfold reduced compared with those of the wild type protein. The reduction was alleviated by proteasome inhibition in lymphoblasts isolated from a mutation carrier.
Although G359Lfs*74 (Intron 11 delA) had a CADD-PHRED score of 23.9 suggesting it is in the top one percent of deleterious variants, Perrone and co-workers considered the mutation was unlikely to play a role in the patients' pathologies given their distinct phenotypes.
Last Updated: 10 Nov 2021
Further Reading
No Available Further Reading
Protein Diagram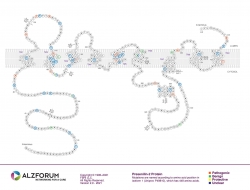 Primary Papers
Perrone F, Cacace R, Van Mossevelde S, Van den Bossche T, De Deyn PP, Cras P, Engelborghs S, van der Zee J, Van Broeckhoven C. Genetic screening in early-onset dementia patients with unclear phenotype: relevance for clinical diagnosis.

Neurobiol Aging

. 2018 Sep;69:292.e7-292.e14. Epub 2018 May 9 PubMed.
Other mutations at this position
Disclaimer: Alzforum does not provide medical advice. The Content is for informational, educational, research and reference purposes only and is not intended to substitute for professional medical advice, diagnosis or treatment. Always seek advice from a qualified physician or health care professional about any medical concern, and do not disregard professional medical advice because of anything you may read on Alzforum.