Mutations
PSEN2 G359Lfs*74 (Intron 11 delA)
Overview
Pathogenicity: Alzheimer's Disease : Not Classified, Mild Cognitive Impairment : Not Classified
Clinical Phenotype: Alzheimer's Disease, Mild Cognitive Impairment
Reference Assembly: GRCh37/hg19
Position: Chr1:227081706 A>-
dbSNP ID: NA
Coding/Non-Coding: Both
Mutation Type: Point
Reference Isoform: PSEN2 Isoform 1 (448 aa)
Genomic Region: Intron 11

Findings
This mutation involves the deletion of an adenine in intron 11 that abolishes the canonical splice acceptor site of exon 12 (Perrone et al., 2018). This leads to exon 12 skipping and a frameshift starting at codon G359, which generates a new termination codon in the 3' UTR.
The variant was found in two Belgian individuals. One was diagnosed with multidomain, amnestic mild cognitive impairment (MCI) at age 55. This patient had problems with short-term memory, naming, and attention, and also developed a tremor. The other patient presented with memory and concentration complaints at age 78, and progressed to global cognitive impairment typical of AD. Genotyping of flanking sequences in the PSEN2 gene showed the two individuals shared a common haplotype (of 7.57 cM) absent from 192 Belgian controls and absent from the gnomAD variant database (v2.1.1 Nov 2021).
The authors also identified, in an individual of Moroccan ancestry, a related variant present at very low frequency in gnomAD (0.0004062 percent), and involving a deletion of two nucleotides in the same splice acceptor site that results in the same frameshift, G359Lfs*74 (Intron 11 delAG). This patient, however, was diagnosed with amyotrophic lateral sclerosis.
Neuropathology
Neuropathological data are unavailable, but brain MRI of the patient with MCI revealed mild atrophy in the hippocampus, and SPECT showed decreased metabolism in the posterior and temporal cortices.
Biological effect
The mutation appears to reduce PSEN2 stability. Mutant transcript levels were reduced more than fourfold and mutant protein levels were approximately 50 percent reduced compared with those of wild-type PSEN2. The reduction was alleviated by proteasome inhibition in lymphoblasts isolated from a mutation carrier.
Although the mutation had a CADD-PHRED score of 23.9, suggesting it is in the top 1 percent of deleterious variants, the authors considered the mutation was unlikely to play a role in the patients' pathologies given their distinct phenotypes.
Last Updated: 10 Nov 2021
Further Reading
No Available Further Reading
Protein Diagram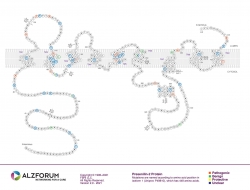 Primary Papers
Perrone F, Cacace R, Van Mossevelde S, Van den Bossche T, De Deyn PP, Cras P, Engelborghs S, van der Zee J, Van Broeckhoven C. Genetic screening in early-onset dementia patients with unclear phenotype: relevance for clinical diagnosis.

Neurobiol Aging

. 2018 Sep;69:292.e7-292.e14. Epub 2018 May 9 PubMed.
Other mutations at this position
Disclaimer: Alzforum does not provide medical advice. The Content is for informational, educational, research and reference purposes only and is not intended to substitute for professional medical advice, diagnosis or treatment. Always seek advice from a qualified physician or health care professional about any medical concern, and do not disregard professional medical advice because of anything you may read on Alzforum.