Overview
Pathogenicity: Alzheimer's Disease : Not Classified
Clinical Phenotype: Alzheimer's Disease
Reference Assembly: GRCh37/hg19
Position: Chr1:227081741 T>C
dbSNP ID: NA
Coding/Non-Coding: Coding
Mutation Type: Point, Missense
Codon Change: TTC to TCC
Reference Isoform: PSEN2 Isoform 1 (448 aa)
Genomic Region: Exon 12

Findings
This variant was found in a Chinese Han woman diagnosed with early onset Alzheimer's disease (Wan et al., 2021). The mutation was identified using a dementia-related gene panel to screen 53 genes associated with cognitive impairment. The proband suffered from progressive amnesia, aphasia, cognitive decline, and depression. Symptoms started at age 51. The proband's mother had similar clinical symptoms, particularly hort-term memory loss, at the age of 60.
Although additional mutation carriers and non-carriers were identified in the family, it was not possible to establish cosegregation of the variant with disease because the genotyped members were too young. Three of the proband's siblings were identified as asymptomatic non-carriers, but their ages were close to the proband's age at onset. Moreover, the proband's two asymptomatic daughters were in their 20s and found to carry the mutation. All three carriers were homozygous for the APOE3 allele.
The mutation was absent from the 1000Genomes, ExAC, and ClinVar variant databases.
Neuropathology
Neuropathological data are unavailable, but brain MRI of the proband revealed progressive brain atrophy, particularly in the temporal lobe and hippocampus (Wan et al., 2021). Moreover, EEG indicated increased θ waves and decreased α waves.
Biological Effect
The biological effect of this variant is unknown, but four in silico algorithms (SIFT, PolyPHen2, PROVEAN, Mutation Taster) predicted it is damaging and F369 is evolutionarily conserved (Wan et al., 2021). Moreover, the variant's PHRED-scaled CADD score, which integrates diverse information in silico, was well above 20, a threshold often used to assess deleteriousness (v.1.6, Oct 2021).
Of note, F369 is close to one of PSEN2's catalytic aspartate residues. Wan and colleagues hypothesized that F369S might affect posttranslational modifications, protein structure, and/or interact with adjacent residues to influence protein function.
Last Updated: 27 Oct 2021
Further Reading
No Available Further Reading
Protein Diagram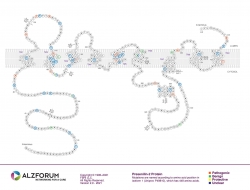 Primary Papers
Wan K, Ma ZJ, Zhou X, Zhang YM, Yu XF, You MZ, Huang CJ, Zhang W, Sun ZW. A Novel Probable Pathogenic PSEN2 Mutation p.Phe369Ser Associated With Early-Onset Alzheimer's Disease in a Chinese Han Family: A Case Report.

Front Aging Neurosci

. 2021;13:710075. Epub 2021 Jul 21 PubMed.
Disclaimer: Alzforum does not provide medical advice. The Content is for informational, educational, research and reference purposes only and is not intended to substitute for professional medical advice, diagnosis or treatment. Always seek advice from a qualified physician or health care professional about any medical concern, and do not disregard professional medical advice because of anything you may read on Alzforum.