Overview
Pathogenicity: Alzheimer's Disease : Not Classified
Clinical Phenotype: Alzheimer's Disease
Reference Assembly: GRCh37/hg19
Position: Chr1:227075841 T>C
dbSNP ID: NA
Coding/Non-Coding: Coding
Mutation Type: Point, Missense
Codon Change: TTC to TCC
Reference Isoform: PSEN2 Isoform 1 (448 aa)
Genomic Region: Exon 7

Findings
This variant was found in a 46-year-old woman in a cohort of individuals with onset of clinical probable Alzheimer's disease (AD) before age 70 at the Mayo Clinic in Jacksonville, Florida (Wojtas et al., 2012). Members of the cohort were screened for mutations in genes associated with AD and frontotemporal dementia (exon 16 and 17 of APP, exons 3-12 of PSEN1, and exons 3-12 of PSEN2).
The carrier's first clinical symptom, reported at age 46, was memory loss. Her family history was unknown, as she was adopted. She had an APOE3/3 genotype.
This variant is absent from the gnomAD variant database (gnomAD v2.1.1, May 2021).
Neuropathology
Neuropathological data for this mutation are unavailable.
Biological Effect
The biological effect of this mutation is unknown, but it is evolutionarily conserved and its homolog in PSEN1, F177S, is pathogenic. Moreover, its PHRED-scaled CADD score, which integrates diverse information in silico, was above 20, suggesting a deleterious effect (CADD v.1.6, Nov 2021). Wojtas and colleagues considered that, taken together, their observations provided support for F183S also being pathogenic (Wojtas et al., 2012).
Last Updated: 05 Nov 2021
Further Reading
No Available Further Reading
Protein Diagram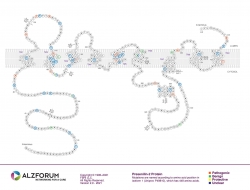 Primary Papers
Wojtas A, Heggeli KA, Finch N, Baker M, Dejesus-Hernandez M, Younkin SG, Dickson DW, Graff-Radford NR, Rademakers R. C9ORF72 repeat expansions and other FTD gene mutations in a clinical AD patient series from Mayo Clinic.

Am J Neurodegener Dis

. 2012;1(1):107-18. PubMed.
Disclaimer: Alzforum does not provide medical advice. The Content is for informational, educational, research and reference purposes only and is not intended to substitute for professional medical advice, diagnosis or treatment. Always seek advice from a qualified physician or health care professional about any medical concern, and do not disregard professional medical advice because of anything you may read on Alzforum.