Overview
Pathogenicity: Alzheimer's Disease : Not Classified
Clinical Phenotype: Alzheimer's Disease
Reference Assembly: GRCh37/hg19
Position: Chr1:227073258 G>A
dbSNP ID: NA
Coding/Non-Coding: Coding
Mutation Type: Point, Missense
Codon Change: GAG to AAG
Reference Isoform: PSEN2 Isoform 1 (448 aa)
Genomic Region: Exon 6

Findings
This mutation was identified in a woman and her mother who were both affected by dementia. The proband was congenitally deaf. At age 48 her husband noticed increasing forgetfulness. Her disease progressed rapidly, and she was hospitalized by age 50. At age 52 she developed seizures. She did not have hallucinations, vertigo, aphasia, rigidity, tremor, or akinesia. Her mother had died at age 72 with dementia by age 59, possibly earlier. The proband's sister also developed dementia by age 60, although further details were not available. DNA samples were analyzed from the proband and her affected mother. The mutation was detected in both women. No mutations were found in the coding regions of PSEN1 or APP (Müller et al., 2014).
This variant was absent from the gnomAD variant database (v2.1.1, Nov 2021).
Neuropathology
Unknown.
Biological Effect
Unknown. In silico, PolyPhen-2 predicts this mutation is probably damaging (Müller et al., 2014). It affects a highly conserved residue in the first hydrophilic loop of the protein. Consistently, its PHRED-scaled CADD score, which integrates diverse information in silico, was above 20, suggesting a deleterious effect (CADD v.1.6, Nov 2021).
Last Updated: 03 Nov 2021
Further Reading
No Available Further Reading
Protein Diagram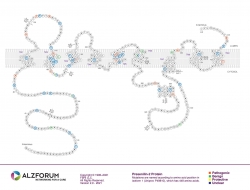 Primary Papers
Müller U, Winter P, Bolender C, Nolte D. Previously unrecognized missense mutation E126K of PSEN2 segregates with early onset Alzheimer's disease in a family.

J Alzheimers Dis

. 2014;42(1):109-13. PubMed.
Other mutations at this position
Alzpedia
Disclaimer: Alzforum does not provide medical advice. The Content is for informational, educational, research and reference purposes only and is not intended to substitute for professional medical advice, diagnosis or treatment. Always seek advice from a qualified physician or health care professional about any medical concern, and do not disregard professional medical advice because of anything you may read on Alzforum.