Overview
Pathogenicity: Alzheimer's Disease : Unclear Pathogenicity
Clinical Phenotype: Alzheimer's Disease
Reference Assembly: GRCh37 (105)
Position: Chr1:227073260 ->A
dbSNP ID: NA
Coding/Non-Coding: Coding
Mutation Type: Insertion
Codon Change: GAG.GAC to GAA.GGA
Reference Isoform: PSEN2 isoform 1 (448 aa)
Genomic Region: Exon 5

Findings
This mutation, involving the insertion of a single nucleotide (A) in exon 5, was identified in a Moroccan individual with memory impairment beginning at age 60. He later developed primary progressive aphasia. His mother was thought to have had Alzheimer's disease, but clinical details were not available and segregation with disease could not be assessed (El Kadmiri et al., 2014).
Neuropathology
Unknown. Neuroimaging showed hippocampal and parahippocampal atrophy.
Biological Effect
The insertion of a single nucleotide (A) in exon 5 is predicted to result in a frameshift after codon 126.
Further Reading
No Available Further Reading
Protein Diagram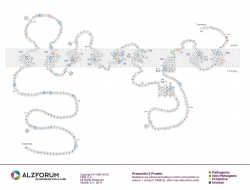 Primary Papers
El Kadmiri N, Zaid N, Zaid Y, Tadevosyan A, Hachem A, Dubé MP, Hamzi K, El Moutawakil B, Slassi I, Nadifi S. Novel presenilin mutations within Moroccan patients with Early-Onset Alzheimer's Disease.

Neuroscience

. 2014 Jun 6;269:215-22. Epub 2014 Apr 4 PubMed.
Other mutations at this position
Alzpedia
Disclaimer: Alzforum does not provide medical advice. The Content is for informational, educational, research and reference purposes only and is not intended to substitute for professional medical advice, diagnosis or treatment. Always seek advice from a qualified physician or health care professional about any medical concern, and do not disregard professional medical advice because of anything you may read on Alzforum.