Mutations
PSEN1 S290C;T291_S319del G>T (ΔE9)
Overview
Pathogenicity: Alzheimer's Disease : Pathogenic
Clinical Phenotype: Spastic Paraparesis, Alzheimer's Disease
Reference Assembly: GRCh37 (105)
Position: Chr14:73673093 G>T
dbSNP ID: rs63750219 
Coding/Non-Coding: Both
Mutation Type: Complex
Genomic Region: Intron 8, Exon 9

Findings
This point mutation at a splice site in intron 8 was the first mutation in PSEN1 determined to result in the deletion of exon 9 from mRNA transcripts. Now, several unique mutations have been identified that result in the exclusion of exon 9 and are variously known as ΔE9, Δ9, delE9, or deltaE9. This deletion occurs in-frame, so presenilin protein is produced, but it lacks amino acids 290-319.
This mutation was first identified in a British family known as F74 (Perez-Tur et al., 1995). The reported pedigree contains seven affected individuals over three generations with symptoms typical of early onset AD, with onset ranging from 39 to 50 years of age. Disease in this family had previously been shown to be linked to chromosome 14, but the precise genetic lesion had been elusive. The mutation was shown to segregate with disease in this family (it was present in three affected individuals and absent in five unaffected). It was also absent in 100 control individuals. This family was described in Hutton et al., 1996.
This mutation was also identified in a pedigree known as EOFAD-3 whose affected members met NINCDS-ADRDA criteria for probable AD (Kwok et al., 1997). This pedigree was also affected by familial spastic paraparesis, a rare neurodegenerative disorder of the central motor system characterized by progressive spasticity of the lower limbs. Spastic paraparesis and AD co-occurred, but also appeared separately. The mean age of onset was reported as 44.4 years (ranging from 41 to 47 years) and it was noted that the dementia was typically less prominent in individuals with spasticity. Further clinical details and associated pathology are reported in Brooks et al., 2003.
Neuropathology
Neuropathological examination of two brains from the EOFAD-3 family revealed numerous cotton-wool plaques throughout the neocortex. Cored plaques were less frequent. Neurofibrillary tangles, neuronal loss, gliosis, and cerebral amyloid angiopathy also were noted. Both cases fulfilled NIA-Reagan criteria for AD (Brooks et al., 2003).
Cotton-wool plaques also were noted in two additional cases with exon 9 deletion who had died at age 52 and 59, respectively. However, it was not clear from the report which exon 9 deletion mutation these individuals carried. Over all, these cases had frequent plaques and neurofibrillary tangles (a Braak score of 5 in both). One of the cases also had Pick bodies in the dentate gyrus; no other brain regions were examined (Halliday et al., 2005).
Biological Effect
This point mutation abrogates the splice acceptor site so that exon 9 (encoding residues 290-319) is spliced out of mature transcripts (Perez-Tur et al., 1995). The skipping of exon 9 occurs in-frame and also results in an amino acid change at the splice junction of exon 8 and 10 (S290C).
The following summary refers to studies of PSEN1 mutants that result in the exclusion of exon 9 (denoted here as PSEN1ΔE9). PSEN1ΔE9 mutants appear to fail to undergo endoproteolytic processing in brains of transgenic mice (Lee et al., 1997), consistent with results in cultured mammalian cells (Thinakaran et al., 1996). Moreover, several cell-based studies indicate their processing of APP is impaired. While some have reported decreased Aβ40 levels and increased Aβ42 levels (Dumanchin et al., 2006; Kumar-Singh et al., 2006), others have found no change in Aβ40 levels but increased Aβ42 levels (Steiner et al., 1999), or a decrease in both Aβ species (Bentahir et al., 2006). In an early study, the Aβ42(43):Aβ40 ratio was reported to be elevated in cell media, as well as in the brains of young transgenic animals co-expressing the mutant and APPswe (Borchelt et al., 1996).
Consistent with these findings, neurons derived from human iPSC lines carrying at least one copy of a PSEN1ΔE9 mutation produced less Aβ40 and had a greater Aβ42/Aβ40 ratio than controls expressing only wildtype PSEN1 (Woodruff et al., 2013). Moreover, mutant-carrying cells had significantly increased levels of the γ-secretase substrates APP α- and β-CTFs, suggesting impaired γ-secretase activity.
In vitro studies with isolated proteins also indicate an increase in the Aβ42/Aβ40 ratio, and decreases in Aβ40 and Aβ42 production (Cacquevel et al., 2012; Sun et al., 2017). A study monitoring the production of an array of Aβ peptides in mouse embryonic fibroblasts expressing a PSEN1ΔE9 mutant indicated that total secreted Aβ peptides, including Aβ38, Aβ40, Aβ42, and Aβ43, were substantially reduced compared with those of cells expressing wild-type PSEN1 (Chávez-Gutiérrez et al., 2012). Also, sizeable reductions in the Aβ38/Aβ42 and Aβ40/Aβ43 ratios were observed, both in cells and in vitro. Interestingly, the levels of the shorter peptides, Aβ40 and Aβ38, were particularly decreased, while those of longer peptides, greater than Aβ42, were increased. These data suggest impairment of the fourth γ-secretase cleavage in the two Aβ production lines that sequentially digest Aβ49 and Aβ48 into shorter peptides.
Consistent with these findings, others have reported that, compared with wildtype PSEN1 activity measured in vitro, PSEN1ΔE9 generates elevated Aβ42/Aβ40, with reduced levels of Aβ40 and Aβ38, and increased levels of longer Aβ peptides (Aβ46 and Aβ46+) (Svedružić et al., 2012). Large reductions in Aβ38/Aβ42 and Aβ40/Aβ43 were also reported.
Exon 9 deletion mutations may also affect PSEN1 transcription. In a bacterial artificial chromosome (BAC)-based expression model, PSEN1ΔE9-expressing cells exhibited reduced PSEN1 gene expression and partial loss of function relative to cells expressing wild-type PSEN1 (Ahmadi et al., 2014).
The absence of exon 9 may impair Notch processing as well. Although one study found no effect of the mutation on this substrate (Chávez-Gutiérrez et al., 2012), others have reported impaired Notch S3 cleavage and corresponding alterations in the differentiation and self-renewal of neural progenitor cells in the adult mouse brain (Bentahir et al., 2006; Veeraraghavalu et al., 2010; May 2010 news).
PSEN1ΔE9 mutations have also been implicated in the disruption of several intracellular functions. For example, by lowering PIP2 levels, PSEN1ΔE9 appears to block a cation channel that mediates capacitive calcium entry (Landman et al., 2006; Dec 2006 news).In addition, impairments in endocytosis, cholesterol homeostasis, autophagy, astrocytic response to inflammatory stimulation, and APP intracellular localization have been (Woodruff et al., 2016; Oct 2016 news; Cho et al., 2019; Oh and Chung, 2017; Oksanen et al., 2019).
Research Models
Multiple mouse models that express PSEN1 lacking exon 9 have been developed. One line, referred to as S-9 (Lee et al., 1997), was subsequently bred to an APP-transgenic mouse to generate a double-transgenic (APPSwe/PSEN1dE9), which has a more severe phenotype than either of the parental lines. Another double-transgenic model was made by co-injecting vectors expressing PSEN1ΔE9 and APP with the Swedish mutation (APPswe/PSEN1dE9 (Borchelt mice)). Although cotton-wool plaques are sometimes prominent in the brains of AD patients with ΔE9 mutations, this pathology has not been observed in ΔE9 mouse models.
In addition, induced pluripotent stem cell lines derived from patients have been used to generate neurons (Woodruff et al., 2013) and astrocytes, which display several features of AD pathology (Oksanen et al., 2017).
Last Updated: 05 Nov 2019
References
Mutation Position Table Citations
News Citations
Paper Citations
Other Citations
Further Reading
Papers
Rogaeva EA, Fafel KC, Song YQ, Medeiros H, Sato C, Liang Y, Richard E, Rogaev EI, Frommelt P, Sadovnick AD, Meschino W, Rockwood K, Boss MA, Mayeux R, St George-Hyslop P. Screening for PS1 mutations in a referral-based series of AD cases: 21 novel mutations.

Neurology

. 2001 Aug 28;57(4):621-5. PubMed.
Halliday GM, Song YJ, Lepar G, Brooks WS, Kwok JB, Kersaitis C, Gregory G, Shepherd CE, Rahimi F, Schofield PR, Kril JJ. Pick bodies in a family with presenilin-1 Alzheimer's disease.

Ann Neurol

. 2005 Jan;57(1):139-43. PubMed.
Kwok JB, Smith MJ, Brooks WS, Kril J, Mclean C, Hallupp M, Schofield PR. Variable presentation of Alzheimer's disease and/or spastic paraparesis phenotypes in pedigrees with a novel PS-1 exon 9 gene deletion or exon 9 splice acceptor mutations.

Neurobiol Aging

. 2000 May-Jun; 21(Supp1):25.
Learn More
Protein Diagram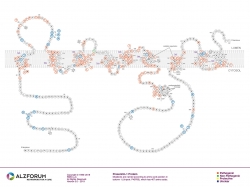 Primary Papers
Perez-Tur J, Froelich S, Prihar G, Crook R, Baker M, Duff K, Wragg M, Busfield F, Lendon C, Clark RF. A mutation in Alzheimer's disease destroying a splice acceptor site in the presenilin-1 gene.

Neuroreport

. 1995 Dec 29;7(1):297-301. PubMed.
Hutton M, Busfield F, Wragg M, Crook R, Perez-Tur J, Clark RF, Prihar G, Talbot C, Phillips H, Wright K, Baker M, Lendon C, Duff K, Martinez A, Houlden H, Nichols A, Karran E, Roberts G, Roques P, Rossor M, Venter JC, Adams MD, Cline RT, Phillips CA, Goate A. Complete analysis of the presenilin 1 gene in early onset Alzheimer's disease.

Neuroreport

. 1996 Feb 29;7(3):801-5. PubMed.
Other mutations at this position
Disclaimer: Alzforum does not provide medical advice. The Content is for informational, educational, research and reference purposes only and is not intended to substitute for professional medical advice, diagnosis or treatment. Always seek advice from a qualified physician or health care professional about any medical concern, and do not disregard professional medical advice because of anything you may read on Alzforum.