Overview
Pathogenicity: Alzheimer's Disease : Pathogenic
Clinical Phenotype: Alzheimer's Disease
Reference Assembly: GRCh37 (105)
Position: Chr14:73683833 A>T
dbSNP ID: NA
Coding/Non-Coding: Coding
Mutation Type: Point, Missense
Codon Change: AGG to TGG
Reference Isoform: PSEN1 isoform 1 (467 aa)
Genomic Region: Exon 10

Findings
This mutation was found in a large French study reporting 56 new families with autosomal-dominant early onset Alzheimer's disease. All probands met NINCDS-ADRDA criteria for probable AD and had a family history of disease (Wallon et al., 2012).
The R377W mutation was detected in one individual in a family with two additional affected individuals. Only the genotype of the proband is known, therefore segregation with disease could not be determined. Age of onset in this family was around 50, with an eight- to nine-year clinical disease course. The mutation was classified as probably pathogenic according to the algorithm proposed by Guerreiro et al., 2010.
This mutation was also detected in an Italian man diagnosed with late-onset AD, who exhibited an atypical presentation including seizures and prominent behavioral symptoms. He was 60 years old when he developed epileptic seizures, followed six years later by cognitive impairment, apathy, and appetite changes. He did not have a family history of disease; his parents died at age 67 and 92 without cognitive deficits, and two siblings were healthy at age 58 and 65. Analysis of his cerebral spinal fluid revealed a biomarker pattern consistent with AD, including decreased Aβ42 and increased total tau and phospho-tau (Borroni et al., 2011).
Neuropathology
Unknown. Structural and functional imaging in the Italian patient showed frontotemporal atrophy and hypometabolism without significant parietal involvement (Borroni et al., 2011).
Biological Effect
An in vitro assay using purified proteins to test the ability of this mutant to cleave the APP-C99 substrate revealed it dramatically reduces Aβ42 production and abrogates Aβ40 production (Sun et al., 2017). Consistent with these findings, in silico analyses predicted this mutation is likely to have a pathological effect on protein function. Moreover, a cryo-electron microscopy study of the atomic structure of γ-secretase bound to an APP fragment indicates that R377 forms part of one of two PSEN1 β-strands induced by APP binding. These strands, together with an APP β-strand, form a hybrid, three-stranded β–sheet that appears to be indispensable for APP cleavage (Zhou et al., 2019; Jan 2019 news). In addition, the mutation may affect splicing since the nucleotide forms part of a splice site (Borroni et al., 2011).
Last Updated: 09 Aug 2019
References
News Citations
Paper Citations
Further Reading
No Available Further Reading
Protein Diagram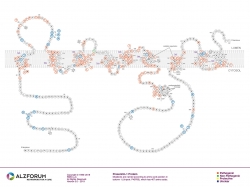 Primary Papers
Wallon D, Rousseau S, Rovelet-Lecrux A, Quillard-Muraine M, Guyant-Maréchal L, Martinaud O, Pariente J, Puel M, Rollin-Sillaire A, Pasquier F, Le Ber I, Sarazin M, Croisile B, Boutoleau-Bretonnière C, Thomas-Antérion C, Paquet C, Moreaud O, Gabelle A, Sellal F, Sauvée M, Laquerrière A, Duyckaerts C, Delisle MB, Streichenberger N, Lannes B, Frebourg T, Hannequin D, Campion D. The French series of autosomal dominant early onset Alzheimer's disease cases: mutation spectrum and cerebrospinal fluid biomarkers.

J Alzheimers Dis

. 2012 Jan 1;30(4):847-56. PubMed.
Borroni B, Pilotto A, Bonvicini C, Archetti S, Alberici A, Lupi A, Gennarelli M, Padovani A. Atypical presentation of a novel Presenilin 1 R377W mutation: sporadic, late-onset Alzheimer disease with epilepsy and frontotemporal atrophy.

Neurol Sci

. 2011 Aug 6; PubMed.
Other mutations at this position
Alzpedia
Disclaimer: Alzforum does not provide medical advice. The Content is for informational, educational, research and reference purposes only and is not intended to substitute for professional medical advice, diagnosis or treatment. Always seek advice from a qualified physician or health care professional about any medical concern, and do not disregard professional medical advice because of anything you may read on Alzforum.