Overview
Pathogenicity: Frontotemporal Dementia : Pathogenic
Clinical Phenotype: Frontotemporal Dementia
Reference Assembly: GRCh37/hg19
Position: Chr17:44087755 C>T
dbSNP ID: rs63751273
Coding/Non-Coding: Coding
DNA Change: Substitution
Expected RNA Consequence: Substitution
Expected Protein Consequence: Missense
Codon Change: CCG to CTG
Reference Isoform: Tau Isoform Tau-F (441 aa)
Genomic Region: Exon 10
Research Models: 9

Findings
Originally identified in a Dutch kindred (HFTD1), a U.S. kindred (FTD003) (Hutton et al., 1998), and in six French families diagnosed with frontotemporal dementia and parkinsonism (Dumanchin et al., 1998), the P301L mutation has since been found in approximately 32 families around the world. The mutation occurs in a highly conserved region of the tau sequence within exon 10 and only affects the 4-repeat (4R) tau isoforms because exon 10 is spliced out of 3-repeat (3R) isoforms.
Neuropathology
Tau aggregates in the brains of affected individuals consist mainly of 4R isoforms (Hutton et al., 1998). A detailed histopathological analysis of HFTD1 found numerous intracytoplasmic tau deposits in neurons and glia in multiple brain regions, including the hippocampus, neocortex, and substantia nigra. Severe neuronal loss, gliosis, and a few ballooned cells were observed in the frontal and temporal cortices (Spillantini et al., 1998).
Biological Effect
In vitro, this mutation has been shown to accelerate the formation of paired helical filaments (Barghorn et al., 2000). It also strongly promotes β-sheet formation during aggregation (von Bergen et al., 2001; Fischer et al., 2007). The P301L mutation is not associated with a change in exon 10 splicing.
Research Models
Many mouse models carrying this human mutation have been generated, including the widely used triple transgenic 3xTg, the single transgenic JNPL3, and the conditional line rTg(tauP301L)4510.
Last Updated: 05 Jun 2013
References
Research Models Citations
Paper Citations
Further Reading
Learn More
Protein Diagram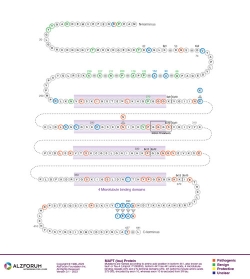 Primary Papers
Other mutations at this position
Alzpedia
Disclaimer: Alzforum does not provide medical advice. The Content is for informational, educational, research and reference purposes only and is not intended to substitute for professional medical advice, diagnosis or treatment. Always seek advice from a qualified physician or health care professional about any medical concern, and do not disregard professional medical advice because of anything you may read on Alzforum.