Mutations
APP KM670/671NL (Swedish)
Overview
Pathogenicity: Alzheimer's Disease : Pathogenic
Clinical Phenotype: Alzheimer's Disease
Reference Assembly: GRCh37 (105)
Position: Chr21:27269939 G>T, Chr21:27269938 A>C
dbSNP ID: rs63751263, rs63750445
Coding/Non-Coding: Coding
Mutation Type: Point, Double
Codon Change: AAG.ATG to AAT.CTG
Reference Isoform: APP Isoform APP770 (770 aa)
Genomic Region: Exon 16
Research Models: 74

Findings
The only known mutation immediately adjacent to the β-secretase site in APP, the Swedish mutation is actually a double mutation, resulting in a substitution of two amino acids, lysine (K) and methionine (M) to asparagine (N) and leucine (L). This well-known mutation has been reported in two large Swedish families who were found to be connected genealogically. Affected individuals generally presented first with memory loss and all met diagnostic criteria for Alzheimer's disease (Mullan et al., 1992).
Neuropathology
Generalized atrophy with sulcal widening and mild ventricular enlargement was observed in one autopsied case (Mullan et al., 1992).
Biological Effect
In vitro, this mutation repeatedly has been shown to increase total Aβ levels. Specifically, there is increased production and secretion of Aβ40 and Aβ42 (Scheuner et al., 1996; Nilsberth et al., 2001; Ancolio et al., 1999; Johnston et al., 1994; Citron et al., 1994; Citron et al., 1992; Cai et al., 1993). The ratio of Aβ40/Aβ42 is generally not affected.
Research Models
The Swedish mutation is commonly introduced into mouse models of AD because it strongly enhances overall Aβ production. Mice carrying this mutation, such as the Tg2576, J20, and 3xTg models, among many others, tend to accumulate high levels of Aβ and develop amyloid pathology.
References
Research Models Citations
Paper Citations
Further Reading
Learn More
Protein Diagram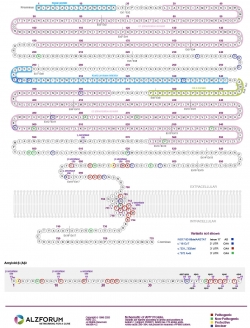 Primary Papers
Mullan M, Crawford F, Axelman K, Houlden H, Lilius L, Winblad B, Lannfelt L. A pathogenic mutation for probable Alzheimer's disease in the APP gene at the N-terminus of beta-amyloid.

Nat Genet

. 1992 Aug;1(5):345-7. PubMed.
Alzpedia
Disclaimer: Alzforum does not provide medical advice. The Content is for informational, educational, research and reference purposes only and is not intended to substitute for professional medical advice, diagnosis or treatment. Always seek advice from a qualified physician or health care professional about any medical concern, and do not disregard professional medical advice because of anything you may read on Alzforum.